February 28, 2022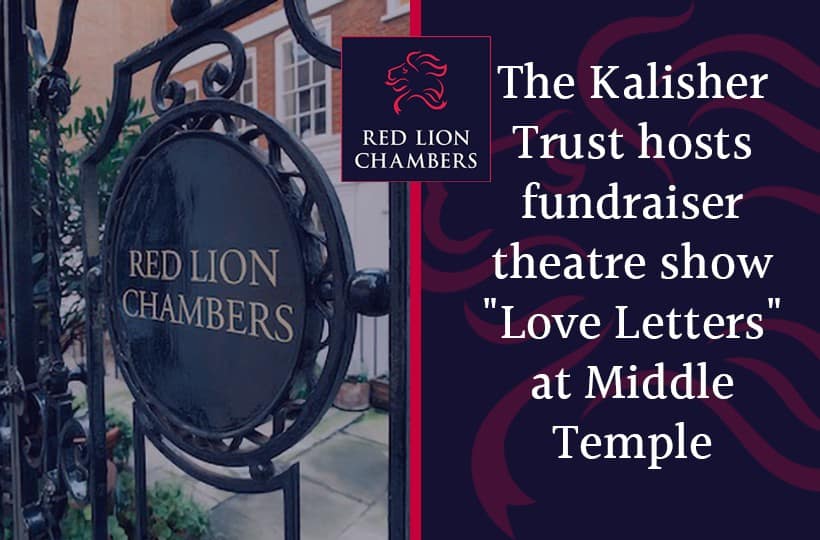 The Kalisher Trust is excited to host Bill Kenwright's acclaimed production "Love Letters"- a tender, tragi-comic story of the shared nostalgia, missed opportunities, and deep closeness of two lifelong, complicated friends. The play looks at two people (played by Martin Shaw and Jenny Seagrove) physically separated yet brought together by open communication and shared confidences, a romance blossoming across the miles and the years. "Love Letters" was a finalist in the 1990 Pulitzer Prize for Drama.
Actor Martin Shaw is known for his roles in The Sweeney, Judge John Deed and Inspector George Gently and is Patron and Vice-Chairman of The Kalisher Trust.
Chambers has held a long-standing relationship with The Kalisher Trust- a small, campaigning charity, determined to deliver diversity within the criminal Bar.
Former HoC, Max Hill QC served as Chair of The Kalisher Trust for five years before becoming Director of Public Prosecutions in November 2019. Alumni include Zoe Chapman and 2022 pupil barrister Kitan Osmani. Former RLC member HHJ Angela Rafferty QC serves as a trustee, as does Ed Vickers QC who commented:
"The Kalisher Trust is so grateful to Martin Shaw and Jenny Seagrove for putting on 'Love Letters' at Middle Temple Hall on 27 March. It is going to be an amazing evening. Martin is a Patron of The Kalisher Trust and the evening will play a very important part in our fundraising. With people supporting us financially, we can continue to support students on their journey to the Bar with academic scholarships, internships, advocacy training and mentoring."
For more information about The Kalisher Trust and to donate please visit: [The Kalisher Trust]
Book tickets for the fundraiser show here: [Eventbrite]