October 25, 2021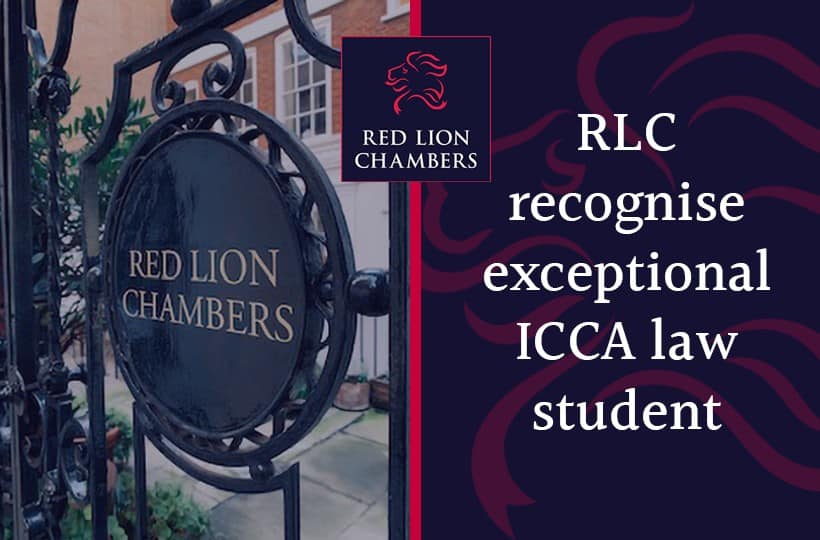 RLC has awarded Timothy Foot with the Conference Award at the end of the ICCA Bar Course validated by King's College London. The awards which are given twice a year mark the end of each part of the ICCA Bar Course. The Conference Award marks the completion of Part 2 and was given to the highest mark achieved by a pupil in that particular module.
Winner Timothy Foot said:
"I am honoured to receive this Award from Red Lion Chambers and be recognised in this way. Completing the ICCA Bar Course has inspired me to fulfil my passion of becoming a Barrister and I look forward to my future at the Bar."
Timothy was also awarded 'The Derek Wood QC Award' for the 'Most Outstanding Student', and the Lincoln House Chambers 'Criminal Advocacy' prize; he was also a runner up in The ICCA, Keating Chambers and Guardian Essay Competition and has secured pupillage.
Co-Head of Chambers Gillian Jones QC said:
"Timothy is an exceptional talent and has demonstrated this in the number of awards and achievements he has already amassed on completion of the ICCA Bar Course. We are delighted to give this Award to Timothy and wish him every success for a bright future and life the Bar."
Read about The ICCA, Keating Chambers and The Guardian Newspaper Essay Writing Competition here: [ICCA – Essay Writing Prize]
Read more information on the ICCA Bar Course here: [ICCA]