November 3, 2021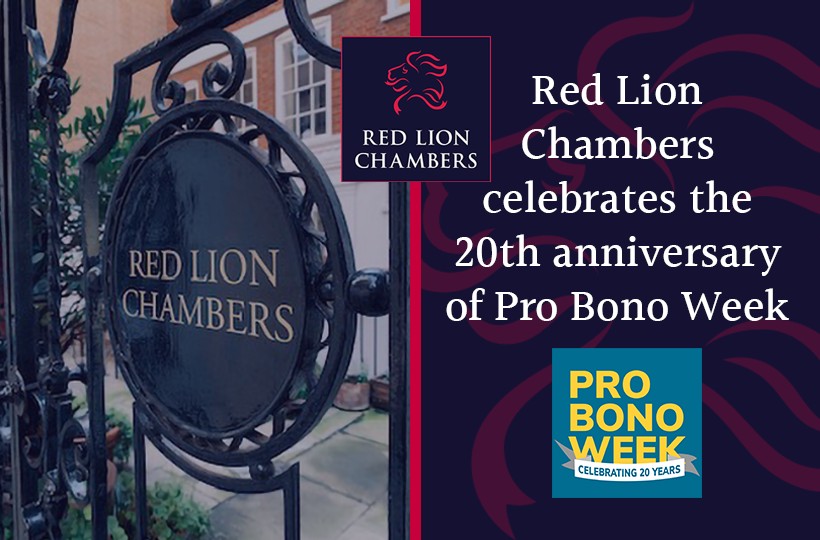 The 20th anniversary of Pro Bono Week takes place this week (1-5 Nov) with a look at the past, present and future of pro bono.
The annual event promotes and supports the work of lawyers who volunteer their services for free to people and organisations who could not otherwise afford legal advice.
Red Lion Chambers remains at the forefront of working with those who are most vulnerable and in need of legal help and recognises the unprecedented challenges that many have faced this year.
In October, RLC members and staff raised much needed funds for London Legal Support Trust, Free Representation Unit and Advocate by participating in the London Legal Walk and continuing a partnership with East London Business Alliance [ELBA] mentoring and supporting aspiring law students from East London. Following the Black Lives Matter movement, the SHIFT25 campaign also goes from strength to strength to address the prejudice and injustices Black communities face in their daily lives and to work towards change with that 'shift' taking place by 2025.
Historically, many members have always played a pivotal role in working with charities and community groups. In a recent survey, findings showed that over half of RLC members (51%) offer support to charitable and legal charity organisations with 34% having worked with organisations for over 5 years maintaining long standing relationships.
Head of Education and Training at RLC, Michael Goodwin QC said:
"Coming from a non-legal background where I was the first member of my family to go to university, I understand the barriers faced by those looking to the Bar for a future. It is for me a real privilege to be able to contribute to a number of outreach programmes, working with students aspiring to enter the profession and those looking to progress at the Bar."
Please see below the work our members have been participating in:
Pro Bono Services
Simon Spence QC
Simon is a Trustee of a charity called the Daisy Chain Project, based in Worthing. The charity assists victims of domestic abuse and has close links to the local police. Simon provides an advice service for the charity if the issues are too legally complex for the volunteers or the police.
Ed Vickers QC
Ed is a Trustee for The Kalisher Trust which encourages and supports students from non-traditional backgrounds to pursue a career at the Bar. The Trust provides advanced advocacy training and support for Kalisher Scholars as well as facilitating internships at NGOs such as Amicus, CCRC and Justice. Ed has played a key role in establishing a mentoring programme between senior judges and legal practitioners with law students until the latter become established in their career at the Bar.
Ed has for many years provided advocacy training at Middle Temple (focussing on those starting out in pupillage) and the Inns of Court College of Advocacy (working on the handling vulnerable witnesses' course) and he sits on the Middle Temple Scholarship panel – interviewing candidates and awarding means-tested scholarships to Middle Temple students studying for the Bar.
He continues to Chair the CBA's C21 working group, reviewing the issues facing practitioners working in the Criminal Justice System and is a member of the Bar Council's Ethics Committee, reviewing professional ethics policy issues and providing advice to practitioners through the ethics helpline.
Michael Goodwin QC
Michael advises the Citizenship Foundation on legal issues for their programmes and was formerly a regional coordinator for the National Mock Trials competition – South of England. He has mentored two students over the last year as part of the ELBA scheme, opening accessibility to senior members of the Criminal Bar. He is a member of the Criminal Bar Association Social Mobility Committee.
Allison Clare QC
This year Allison took part in a Lockdown Buddy Scheme providing law students with support during an isolating time. She also continues to mentor 6th formers from her local non selective state school, Charter North Dulwich, who are thinking of applying to do law, by facilitating informal work experience days, helping with personal statements and general mentoring.
Sailesh Mehta
Sailesh lectured Judges in Tanzania, Australia and (virtually) in the USA on aspects of environmental, human rights and regulatory law and is planning a pro bono legal clinic in Dar-Es-Salaam for the end of this year. He has also been advising a group of plastic surgeons who are planning to carry out pro bono reconstructive surgeries in East Africa. He also advises a group of surgeons – the advice is pro bono, but the recipient of the advice donates to a charity which will fund pro bono projects in developing countries.
Valerie Charbit
Since 2003, through the Bar Pro-Bono unit, Valerie Charbit has been a board member with Inclusion London (promoting equality for London's deaf and disabled people's organisations) and previously for Ataxia UK (a rare neurological disorder). She was also responsible for rolling out the Vulnerable Witness Advocacy Training for the South Eastern Circuit (SEC).
As an approved advocacy and Ethics trainer for Middle Temple, Valerie plays a key role encouraging students from all backgrounds to join the criminal bar, including being a judge in School mock trial competitions and a Women in Criminal Law mentor. She is currently working on a new Kindness project in collaboration with the CBA and SEC that will look at encouraging kindness in the workplace and in courts.
David Claxton
Instructed by Hogan Lovells, David provided submissions to a coroner's inquest on behalf of a family whose daughter was murdered by a serial abuser. David has also mentored Bar school students through the Middle Temple.
Nicholas Hall
Nicholas Hall working alongside Hogan Lovells, successfully removed the previous 'sex-work' convictions of a victim of human-trafficking from her record. In October, he was also instructed by Hogan Lovells to represent the family of a daughter at a coroner's inquest who had been in a controlling and coercive relationship which ultimately led to her death.
Aimee Riese
Aimee is a mentor on the BME Legal scheme which focuses on empowering black students and ethnic minority students and those from low-socio economic backgrounds to improve their skills to obtain pupillage. She has completed a couple of pro bono immigration bail hearings for Bail for Immigration Detainees and is a school governor at the Bridge School, a special school for children with severe learning difficulties and/or autism.
Chambers continues to work with Young Citizens, The Kalisher Trust, The Centre for Women's Justice, Clean Break Theatre and new initiative Bridging the Bar which promotes equal opportunities and diversity at the Bar.
For more information on Pro Bono Week please see: [Pro Bono Week]