July 11, 2022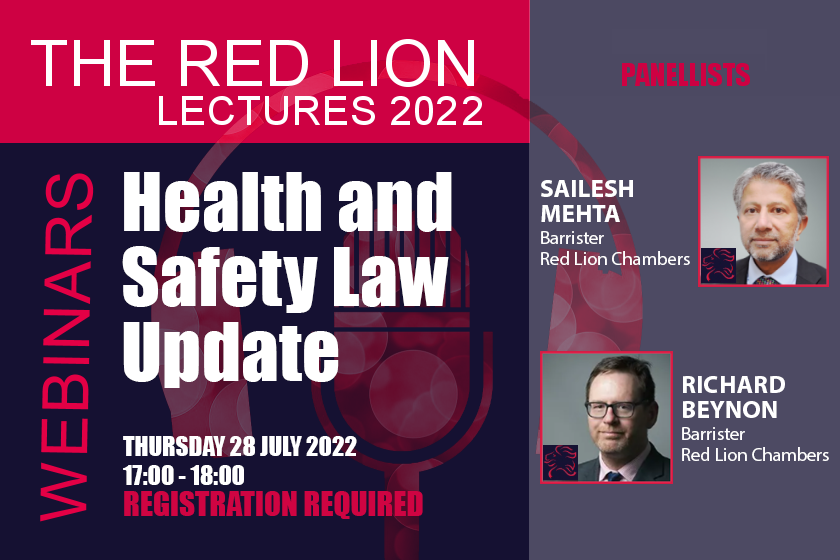 This Health and Safety Law webinar is designed to update every solicitor who has a H & S practice. It will cover a range of topics including:
Keeping up-to-date with the law and practice in this constantly-evolving field can be challenging. These webinars will tell you everything you need to know. Laura Hoyano and Jane Oldfield, facilitated by Valerie Charbit, will explain and discuss the new and updated provisions in Achieving Best Evidence, remote participation of witnesses and defendants, s.28 cross-examination and ensuring equal treatment, as well as how they are being interpreted by the courts and practical tips for those prosecuting and defending on how best to use them.
Case Law:
R. v Nestle UK Ltd [2021] EWCA Crim 1681, [2022] 4 W.L.R. 3, CA, 22 October 2021.
R. v Brown (Jayne) [2021] EWCA Crim 1665 (Fire safety – sentence – HSWA guidelines – see R v Butt).
R. v Associated Waste Management Ltd [2022] EWCA Crim 785, [2022] All ER (D) 54 (Jun)
R. v CMBC SUPPLY LIMITED – Sentencing Remarks of Mr Justice Picken . Birmingham Crown Court 29 June 2022
Legislation:
Fire Safety Act 2021
Fire Safety (England) Regulations 2022 (SI 2022/547)
Building Safety Act 2022
PPE at work (amendment) Regs 2022
Practice:
Disclosure case law and Guideline
Evidence and procedure, including bad character.
Book here: [Zoom]