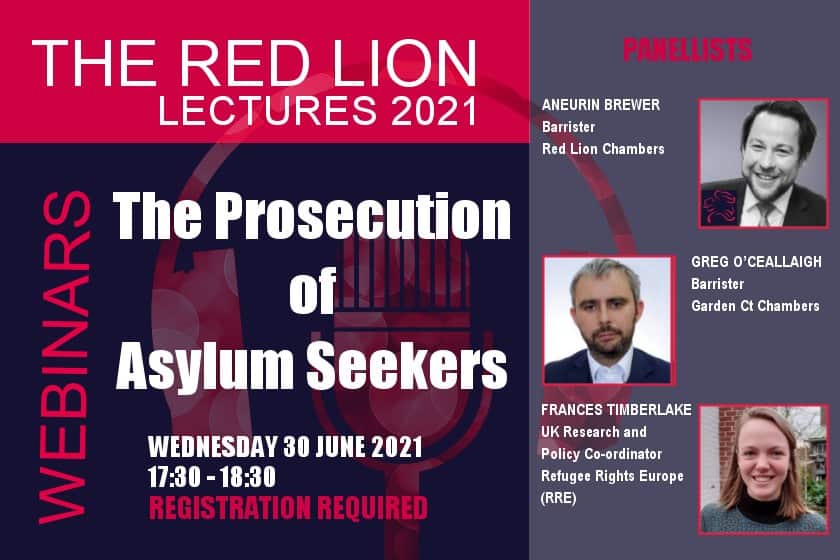 The Prosecution of Asylum Seekers
[su_youtube url="https://youtu.be/cYyYTBVc6ho"]
The Prosecution of Asylum Seekers
Thursday 30 June, 17.30-18.30
A webinar presented by Red Lion member Aneurin Brewer, with Greg O'Ceallaigh of Garden Court and Frances Timberlake at Refugee Rights Europe (RRE) / Refugee Women's Centre.
Following the successful appeal against conviction and subsequent acquittal on retrial in the case of Fouad Kakaei, this webinar will examine the intersections between criminal prosecutions and the asylum system. The case of Kakaei concerned an asylum seeker who was prosecuted for facilitating breaches of asylum law alleged to have been committed by the other asylum seekers aboard two small inflatable boats that Kakaei helped to pilot across the English Channel in 2019. The case highlighted an increasingly common practice of prosecuting asylum seekers in so called "small boats cases" and established for the first time that those prosecuted in such circumstances have a complete defence if they intended to be rescued whilst still at sea in order to claim asylum. The case potentially calls into question a significant number of previous convictions secured in similar circumstances as well as large number of pending prosecutions.
Those wishing to learn more about the case of Kakaei are invited to read more in the below links:
[Free Movement] [The Times]
The three speakers will address in turn:
The section 11 defence developed in the case of Kakaei, its impact on previous pleas and convictions in small boats cases, and give practical advice on deploying the defence in small boats cases and other immigration prosecutions;
The workings of the asylum process in the UK and the impact of criminal convictions and sentences on asylum claims; and,
The stark realities for asylum seekers living in migrants camps in Northern France.
PANELLISTS
Aneurin Brewer
Aneurin is a criminal barrister at Red Lion who represented Kakaei throughout his original proceedings, successful appeal and retrial.
Aneurin has developed a well-deserved reputation as a tenacious and conscientious defence advocate with a down to earth demeanour and a talent for winning the confidence and trust of lay clients and juries. He is a specialist in lengthy, multi-handed and factually complex trials involving allegations of drugs supply, fraud and other criminal conspiracies both as a led junior and in his own right. He is currently ranked in the Legal 500 as a Leading Junior in the field of General Crime.
In addition to a busy trial practice Aneurin regularly advises on and conducts appeals against conviction and/or sentence on a referral basis.
Greg Ó Ceallaigh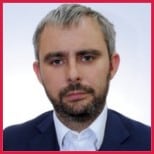 Greg Ó Ceallaigh is a barrister at Garden Court specialising in human rights, asylum and immigration and public law. He has particular expertise in the Dublin III Convention which governed the return of asylum seekers to other European countries and provided expert evidence to the Court in Kakaei on its operation.
Greg is ranked in the Chambers UK Bar Guide 2021 and the Legal 500 2021 for immigration. He writes for Macdonald's Immigration Law and Practice and Butterworths Immigration Law Service. He is a regular contributor to Free Movement, and has been featured in national and international press as an expert on immigration issues and the refugee crisis, including the Independent, Wall Street Journal, RTS and Al Jazeera. He is on the Lexisnexis Panel of experts.
Frances Timberlake
Frances is the UK Research and Policy Co-ordinator for Refugee Rights Europe (RRE). She provided vital expert evidence at the retrial of Kakaei on the experience of migrants in Northern France and the typical intentions of those seeking to cross the Channel in small boats.
Frances is a long-term activist for refugee and migrant rights, with a particular interest in the configuration and policing of borders. At RRE she focuses particularly on UK border and immigration policy in relation to the shared border with France. She has published a range of reports, academic articles and opinion pieces regarding irregular migration into the UK via France as well as providing evidence to national and international bodies on the same topic. Before her role at RRE she worked for a number of years as a community support worker with the Refugee Women's Centre, a charity in northern France which works with displaced women and families based in the informal living settlements in Calais and Dunkerque.
Those interested in the wider policy responses to the issue of Channel crossings may find Frances' article here: [Free Movement]
Panellists:
Aneurin Brewer, RLC
Greg Ó Ceallaigh, Garden Court Chambers
Frances Timberlake, Refugee Rights Europe (RRE) / Refugee Women's Centre