Overseas Production Orders
[su_youtube url="https://youtu.be/63-GVl9lfzo"]
Overseas Production Orders
WEDNESDAY 14 OCTOBER, 13.00-14.00
A webinar presented by Red Lion members Shane Collery QC and Faye Rolfe 
Modern criminal investigations are increasingly reliant on electronically-stored evidence, typically located outside the reach of the investigatory authorities on US–controlled cloud platforms. The new Overseas Production Orders will have potentially profound consequences for the success and efficiency of cross-border investigations, by compelling overseas companies to produce electronic data within 7 days, without recourse to cumbersome MLA. Significantly, any scrutiny by the judicial authorities in the target jurisdiction will be absent from the process, as will any requirement for the order to be physically served in the UK. This new legislation follows a recent trend of the courts to interpret extra-territorial reach into existing powers, as seen in the case of R (KBR) v SFO, and mirrored across the pond by the CLOUD Act, which creates the first bi-lateral agreement – between the UK and the US by which OPOs will gain their teeth.
This Webinar will look at the following topics:
When the power to grant an OPO 

exists

, and 

wh

o

 may apply

;

 

How

 

OPOs take 

effect and 

are 

enforced;

 

A consideration of the first Bilateral Data Access Agreement, between the

 

UK and the USA

 

Safeguards and Limits to the powers

 

A comparison between Overseas Production Orders and Mutual Legal Assistance

.

 
PANELLISTS
Shane Collery QC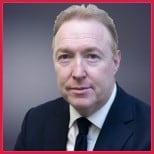 Shane Collery QC brings a highly unusual combination of skills and understanding of commercial work to a varied and extensive practice in serious organised crime, serious fraud and tax tribunal litigation.  He was a City of London UK Equities trader before attending University, experienced commercial work for 2 years at Slaughter and May under a quasi-training contract and more recently attained a Master in Taxation from the School of Advanced Legal Studies. Accordingly, he combines the skills and rigour of someone with formal training in tax, with the forensic skills of a high-level criminal bar practitioner with years of experience in fraud and serious organised crime cases
His skills and diligence have been recognised by his numerous appointments as Standing Counsel to five Government departments or agencies since 2002. Most recently in October 2017 he was appointed as Standing Counsel to the Insolvency Service advising upon and prosecuting the most serious criminal matters investigated by that agency.
He has 25 years of high level experience of large organised crime cases involving Class A drugs, firearms and the violence that goes with large scale drug trafficking and at the same time in large fraud cases in particular those with a tax element. He is becoming increasingly involved in the investigation of allegations of bribery and misconduct in public office in Local Government and in relation to a Parliamentary election.
Recently in December 2019,  he was appointed to the Advisory group for the Home Office Serious Organised Crime review. In December 2019 he also visited Oman for a UK organisation to build links and increase resilience in the prosecutors office.
He has significant experience in advising on the criminal liability aspects of tax avoidance schemes including the various incentive schemes in the UK for Films. This includes the pre January 2007 schemes and the later Film Production Company Film Tax Relief and Credit scheme under the Corporation Taxes Act 2009.
He has been a Recorder since 2004.
Faye Rolfe
Faye is a determined advocate with a busy practice across the range of Chambers' practice areas; she is regularly instructed to prosecute and defend in cases of general crime and fraud, and also draws on her biomedical background in her professional regulatory work. Her interest in the topic of this webinar stems from her long-standing involvement in the Cambridge International Symposium on Economic Crime, and her time at Hickman and Rose Solicitors where she worked as a paralegal on large-scale cross-jurisdictional investigations. In her own practice, Faye has advised on requests for MLA in relation to an insider dealing and SFO s2 notices under the CJA 1987.   
Panellists:
Shane Collery QC
Faye Rolfe