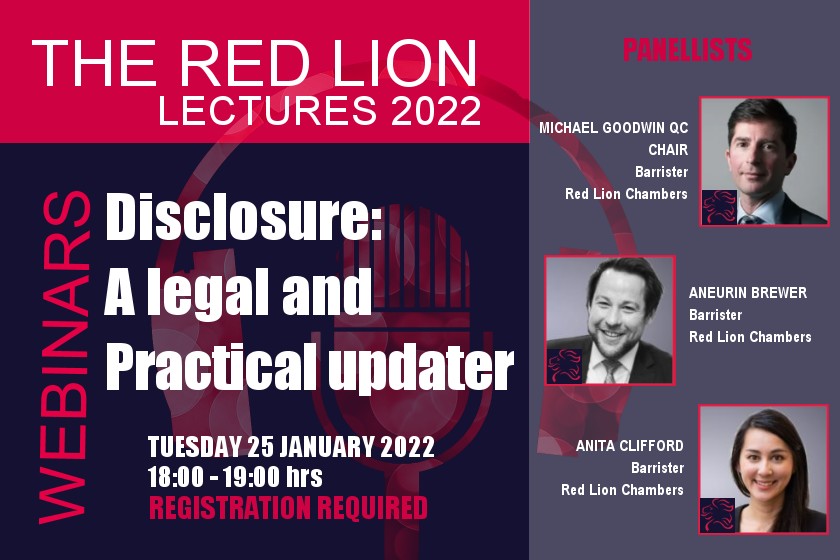 Disclosure: A legal and practical updater
[su_youtube url="https://youtu.be/_jzk_5oloLs"]
Disclosure: A legal and practical updater
Tuesday 25 January 2022, 18.00-19.00
A webinar presented by Red Lion members Aneurin Brewer and Anita Clifford, chaired by Michael Goodwin QC.
The topics covered in this webinar include:
Part 1: A General Legal Update – Michael Goodwin QC
Part 2: Disclosure of electronic material in rape and domestic violence cases – Aneurin Brewer
Part 3: A year on from the introduction of the new AG Guidelines on Disclosure and revised CPIA Code of Practice – Anita Clifford
PANELLISTS
Michael Goodwin QC [CHAIR]
Michael Goodwin QC practices in serious crime and business crime. Ranked by Chambers UK and Legal 500, Michael has extensive experience defending and prosecuting in high profile and complex criminal litigation.
Aneurin Brewer
Aneurin has developed a well-deserved reputation as a tenacious and conscientious defence advocate with a down to earth demeanour and a talent for winning the confidence and trust of lay clients and juries. He is a specialist in lengthy, multi-handed and factually complex trials involving allegations of drugs supply, fraud and other criminal conspiracies both as a led junior and in his own right. He is currently ranked in the Legal 500 as a Leading Junior in the field of General Crime.
In addition to a busy trial practice Aneurin regularly advises on and conducts appeals against conviction and/or sentence on a referral basis.
Anita Clifford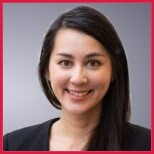 Anita is highly approachable and ranked in the Legal 500 and Chambers and Partners for Proceeds of Crime Act 2002 & Asset Forfeiture work where she is described as 'a fantastic rising star who is knowledgeable and reassuring in the delivery of her advice'. Anita defends and prosecutes across the range of Chambers' practice areas and has experience in civil proceeds of crime matters. Alongside her general crime practice, Anita has a strong financial crime interest and advises on anti-money laundering investigations and regulatory requirements, suspicious activity reporting and account freezing. She also advises on the United Kingdom's financial sanctions regime.
Disclosure: A legal and practical updater
Panellists:

Michael Goodwin QC
Aneurin Brewer
Anita Clifford