June 16, 2021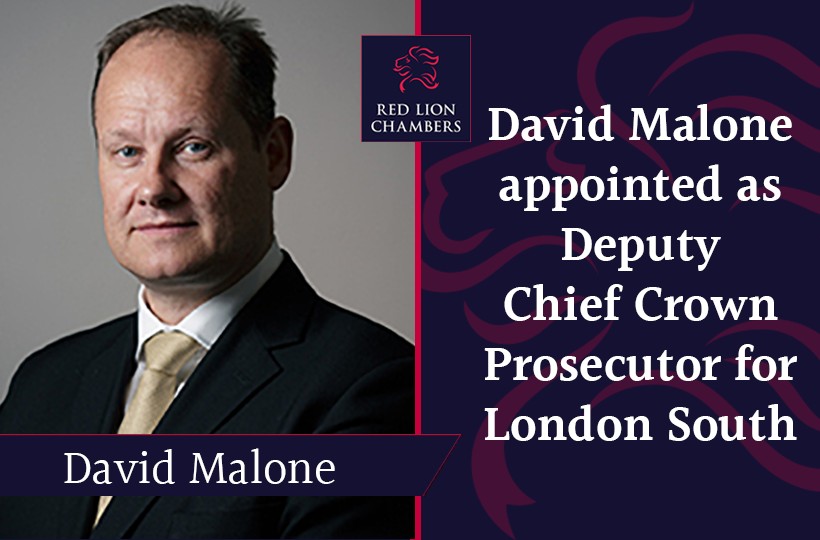 Congratulations to Red Lion Chambers member David Malone who has been appointed as the new Deputy Chief Crown Prosecutor for CPS London South, one of the largest CPS Areas in the country. In doing so, he becomes the first ever member of the self-employed bar to be directly appointed as a Deputy Chief Crown Prosecutor for a CPS Area.
This appointment to the senior leadership of the CPS, follows a hugely successful two-year secondment as Deputy Head of the Specialist Fraud Division, overseeing some of the most serious and complex fraud, bribery and corruption prosecutions in the country.
This secondment was also ground-breaking for the CPS, with David being the only ever secondee to be appointed as a Deputy Head of a CPS Central Casework Division, following a national recruitment campaign in 2019.
During his time practising at the self-employed bar, David acted in high-profile, serious and complex criminal and human rights cases, for the defence and prosecution. He was commended by the Bar Council for his pro bono work protecting victims of domestic and sexual violence. He said:
"Red Lion Chambers will always be close to my heart, but as the country emerges from the pandemic this is a critical time for both the Criminal Justice System and the Capital. I have enjoyed every moment of my career as an advocate and I fully intend to continue appearing as an advocate before the Courts, however this new role will also afford me the chance to use that experience to, I hope, positively influence the work of the very large and talented Crown Court team I now head up."
David has made a significant contribution to the life and work of Red Lion Chambers and Chambers wish him well as he takes on this new and important challenge.