October 6, 2020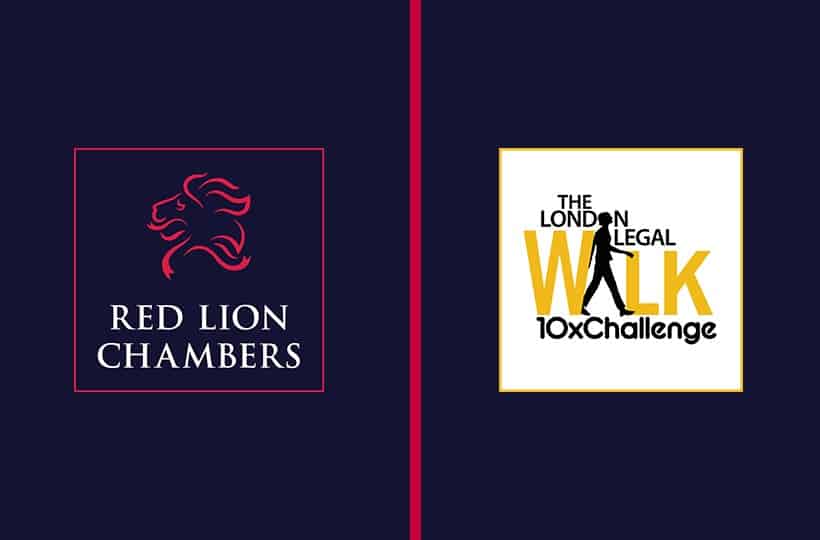 Members across Chambers have successfully completed the 2020 London Legal Walk 10xChallenge raising up to £1,000 for the London Legal Support Trust, Free Representation Unit and Advocate.
Red Lion members walked, ran, cycled and swam throughout the day with a team comprising of Joint Head of Chambers Antony Shaw QC, Jeremy Benson QC, Allison Clare QC, Tom Forster QC, Marcus Rickard, Valerie Charbit, Zoe Chapman, Sam Smart, Mark Bennett and Rachel Shepherd.
The 10xChallenge (and often much more) was met by members mountain biking up and down the North Yorkshire Dales, cycling from Boxford to Kersey in Suffolk, running through Beckenham Place Park with one member swimming up to 70 laps in an outdoor pool. Others walked parks and trails including The Wandle Trail, Wanstead Park, Oxleas Wood and Shepherdleas Wood.
In light of the Covid-19 outbreak, fundraising for free legal advice services is more critical than ever with members also fundraising earlier this year in the '10,000 steps for Justice' campaign.
Two-thirds of the UK population do not know where to seek legal advice and 14 million people who live in poverty are unable to pay for it. The London Legal Walk raises vital funds to ensure access to justice for some of our communities' most poor and vulnerable people and support is needed now more than ever with the challenges brought on by the Covid-19 pandemic.
London Legal Walk supports around 100 legal advice agencies in London and the South East who are working tirelessly to prevent homelessness, resolve debt problems, gain care for the elderly as well as fight discrimination and exploitation.
Please continue to sponsor the Red Lion Chambers team here: [Virgin Money Giving]