March 8, 2021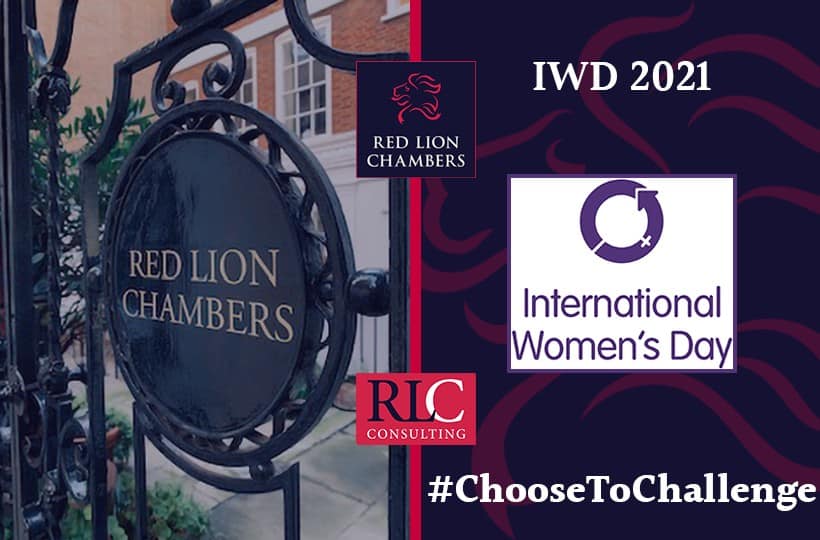 Chambers celebrates International Women's Day on Monday March 8th joining in the global celebrations to mark the day and promote the social, economic, cultural and political achievements of women. 2021 also marks a call to action for accelerating gender equality with this year's theme 'Choose to Challenge'. A challenged world is an alert world and from challenge comes change.
Joint Head of Chambers, Gillian Jones QC said:
"There are so many ways in our daily working lives in which we can #ChooseToChallenge, to ensure a more inclusive and diverse environment, in which we celebrate and encourage equality, where women not only aim high but achieve it! Whether it is standing up to bias or discrimination, by speaking out when we see it, or having the ability to turn to others for support, we can ensure that change is not just discussed but becomes a reality. We need to set clear plans and targets around gender equality and diversity that not only support women's progression into senior roles in the profession but ensures their retention.

It is not always easy to #ChooseToChallenge, however, by inspiring and encouraging each other to have the courage and space to speak out and respectfully challenge behaviours, I strongly believe we can make change happen.

The last 12 months during Covid19 have seen many women face huge hurdles and challenges, the statistics do not make happy reading. Whether it is acting as a mentor, a role model, through support networks or making time to listen, I intend to play my role in ensuring that we #ChooseToChallenge"
Check out how Red Lion Chambers will be marking IWD 2021 below:
RLC Fundraiser Webinar with Clean Break Theatre
In association with Clean Break Theatre, RLC is pleased to announce a fundraiser webinar entitled 'Endless Sentences: How communities can extend women's sentences after release' on April 29th.
Clean Break changes lives and minds through theatre – on stage, in prison and in the community. Founded in 1979 by two women in prison who believed in the power of theatre to transform lives, Clean Break has an unparalleled reputation for award-winning theatre. The webinar will include a special preview of a scene from Clean Break's forthcoming play 'The Favour' (co-produced with the Bush Theatre) written by actress and playwright Ambreen Razia (Hounslow Diaries, Ilford Lane) and directed by Róisín McBrinn, Joint Artistic Director of Clean Break. The play focuses on Aleena and her struggles to find a place for herself on the other side of prison.
Hosted by Gillian Jones QC, Joint Head of Red Lion Chambers (Developmental Board member at Clean Break and legal referral panel member Centre for Women's Justice), panel members will explore the issues relating to how communities can extend women's sentences after their release, touching on the 'system', resettlement, societal pressures and why women are treated differently to men and the impact on children and families. Joining the panel will be Harriet Wistrich (Founding Director at Centre for Women's Justice) Ambreen Razia (Actress and Playwright) Róisín McBrinn (Joint Artistic Director at Clean Break) Amanda Richardson (Clean Break Trustee) and Jennifer Joseph (Member of Clean Break).
Sign up here: [Red Lion Webinars – Zoom]
Donations Welcome here: [JustGiving: Clean Break]
Interview with RLConsulting member Baroness Heather Hallet
"The mother went straight from court into childcaring mode. Male counterparts could go into CV building mode…"
To mark International Women's Day, RL Consultant Baroness Heather Hallett reflects on her own career, how tough life can be for women lawyers challenging prejudice and discrimination as well as looking at the brighter paths ahead. She is interviewed for Counsel Magazine by RLC member Nina Tavakoli who specialises in international and domestic criminal law and is currently a member of the core team in the Dobbs Review.
Please read piece here: [Counsel Magazine]
Learn more about RL Consulting here: [RLConsulting]
Kate Bex QC featured by Bar Council
Kate Bex QC recalls the best piece of advice she received (or didn't receive) as a woman at the Bar as well as exploring how everyone can play their part in challenging gender bias. She also talks about the people who have provided important support, some of her achievements and the single biggest change she would like to see for women working at the Bar.
Read piece here: [Bar Council]
Women working in financial crime
RLC member Allison Clare QC took silk in 2020 despite having 3 children and taking nearly 2 years maternity leave during her 13-16 year call bracket. She has written an article for the Bar Council looking at the gender pay gap for women who specialise in complex fraud.
Read full piece here: [Bar Council]
Thanks to Sarah Taylor-Wilmshurst (pupil barrister at Red Lion Chambers) for her research.
Thinking of this year's IWD theme she will:
"Challenge myself when recommending other counsel. Despite whom one may see most often in court, male barristers should never be the default option and it is utterly preposterous to suggest their sex makes them better suited to complex fraud work."
Riel Karmy-Jones QC
Riel Karmy-Jones QC will be talking to the University of Reading Law Society about her career at the Bar, her journey to taking Silk and offering tips and advice to law students.
Sign up here to hear how she chose to challenge herself: [Eventbrite Tickets]
Reflecting on this year's IWD theme, Riel says:
"I grew up in a different country with an unconventional mixed ethnic background. Coming to the Bar as a mature student, I learned just how tough it can be when you don't "fit".

There is no substitute for hard work, but our society is rapidly changing- for the better. We must embrace this challenge to create greater Equality, Diversity and Inclusion, and confront bias so as to encourage people to follow their dreams. If we don't, what we say and do will no longer be relevant."
Zoë Chapman
Zoë Chapman will be talking at a THEMIS (Intersectional Women Barristers' Alliance) event about her role as a female criminal barrister at the Bar and the challenges she has to overcome on a daily basis.
More here: [Eventbrite Tickets]
As a social mobility advocate for the Bar Council she will also be taking part in an engagement event with the University of East London to discuss her journey to the Bar and how she challenged herself to break down stereotypes of what a barrister should 'look like'.
Hear what our members and associates #ChooseToChallenge
Mary Cowe (Associate Tenant)
"Let's #ChooseToChallenge the idea that we've come 'far enough'. We can celebrate progress but acknowledge that there's so much still to do before every woman on the planet enjoys real economic and social freedom. Achieving true equality – making a better world- must concern us all."
Valerie Charbit
"I #ChooseToChallenge the low number of deaf and disabled people in leadership roles so we can improve their rights. I believe inclusivity is the best way to achieve real change. As I have got older I see a need for minority groups to be in positions of power. I am a trustee for Inclusion London which supports London's deaf and disabled people's organisations and campaigns for equality.

I also choose to challenge the equating of being tough at the bar with being a good advocate. Many of the advocates I admire are above all else kind."
Laura Hoyano
"We can #ChooseToChallenge the increasing levels of pretrial failures in police investigations and CPS decision-making in cases of sexual and domestic violence against girls and women, due to long-term under-resourcing of the criminal justice system."
Helena Spector
"I #ChooseToChallenge the workplace culture that often overlooks the responsibilities, dependencies and financial insecurities that can constrain working patterns of women, those from ethnic minorities, those with disabilities, or working parents. If the Bar is to be more accessible, it needs to be more flexible. Our IWD challenge is to be increasingly aware of and accommodating towards every kind of difference."
Faye Rolfe
"I #ChooseToChallenge the assumption that to succeed as a woman in a male-dominated industry you need to abandon your femininity. You will never do as well adopting a persona as you will be developing your own unique style that embraces your natural attitude, skills and insights."
Sarah Taylor-Wilmshurst (Pupil Barrister)
"I #ChooseToChallenge the 'always on' culture at the Bar which fails to recognise the myriad other responsibilities that barristers have. 57% of women at the Bar with children are primary carers compared with 4% of fathers at the Bar. When we fail to honour responsibilities outside of work, we fail women."
Tracey Groves (RL Constultant)
"I #ChooseToChallenge all women to the best that they can be.  To be empowered to be true to themselves, to recognise the dignity they own & the power to drive change through difference.  By being ourselves at our best, collectively & independently, we can make change happen."
Tracey's thoughts on IWD in 2021:
"The theme of #ChooseToChallenge is such a powerful platform for IWD2021 given the choices that women are facing right now in the wake of the global pandemic. Many women are exploring and examining their values and what really matters to them. The question of purpose and impact has been amplified during recent months.

#ChooseToChallenge applies a laser-like lens to the role of women in the workplace, family and wider communities.
We all have choices – now is the time for women to stand up and choose challenge as a force for good."
Learn more about RL Consulting here: [RLConsulting]