September 27, 2021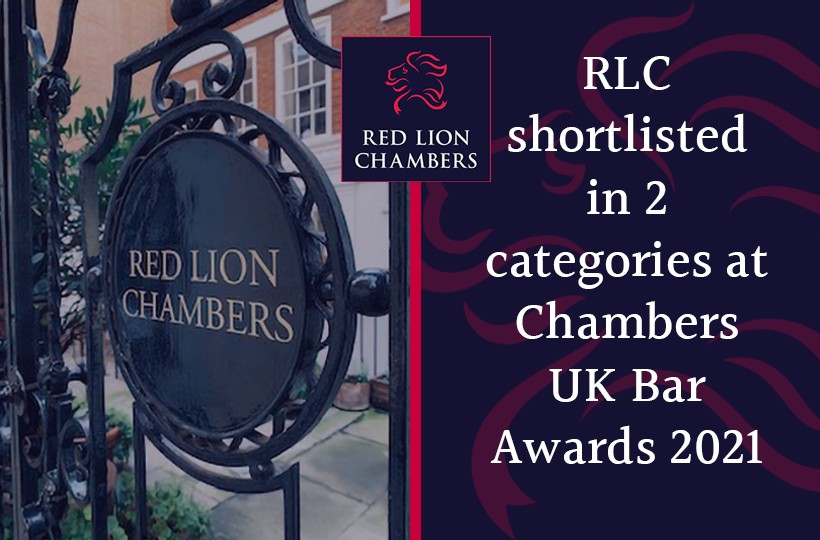 We are delighted to announce that Chambers have been shortlisted as finalists in the category of 'Crime Set of the Year' in this year's Chambers UK Bar Awards 2021. Valerie Charbit has been shortlisted for 'Outstanding Contribution to Diversity and Inclusion.'
Based on the extensive research for the recent edition of Chambers UK Bar, the awards recognise a Chambers pre-eminence in the UK, reflecting on achievements over the past 12 months including outstanding work, impressive strategic growth and excellence in client service.
Joint Heads of Chambers Tony Shaw QC and Gillian Jones QC said:
"All our members and staff have had to work extremely hard this year navigating the challenges of Covid 19, court closures as well as juggling busy professional and personal lives. Our Clerks Team headed up by Mark Bennett have worked tirelessly to ensure the smooth running of Chambers balancing the practice management of 109 barristers! As a result, this year in particular, we are delighted to have been recognised by Chambers UK Bar Awards and thank everyone for their invaluable support. We also offer our congratulations to Valerie Charbit for being recognised by the Awards for her outstanding contribution to Diversity and Inclusion."
Since 2003, through the Bar Pro-Bono unit, Valerie Charbit has been a board member with Inclusion London (promoting equality for London's deaf and disabled people's organisations) and previously for Ataxia UK (a rare neurological disorder). She was also responsible for rolling out the Vulnerable Witness Advocacy Training for the South Eastern Circuit (SEC).
As an approved advocacy and Ethics trainer for Middle Temple, Valerie plays a key role encouraging students from all backgrounds to join the criminal bar, including being a judge in School mock trial competitions and a Women in Criminal Law mentor.
Valerie says:
"I believe the only way to promote diversity in the profession is to be proactive in acting to break down structural inequalities. Positive action with support will improve diversity. I believe key actions should include reviewing and changing recruitment processes to minimise bias; offering additional support, training and mentoring for students and those newly qualified from marginalised communities as well as active on-going engagement with colleagues from marginalized communities to understand the barriers they face and the positive action they think needs to happen."
As previous recorder of the South Eastern Circuit (SEC) and Wellbeing director for the CBA, she was responsible for setting up a series of events and speakers to promote wellbeing for the bar and bench. For the last 7 years, Valerie has been a member of the Bar Council's working party for wellbeing and is only recently standing down as the CBA's Director for Wellbeing, having held the position for 3 years. One of her final campaigns will be to launch a new Kindness project in collaboration with the CBA and SEC that will look at encouraging kindness in the workplace and in courts.
Winners of the Chambers UK Bar Awards will be announced on Thursday 18 Nov at Old Billingsgate, London.