Vulnerable Witnesses and Defendants Updater
Monday 11 July, 18:00-19:00 UK Time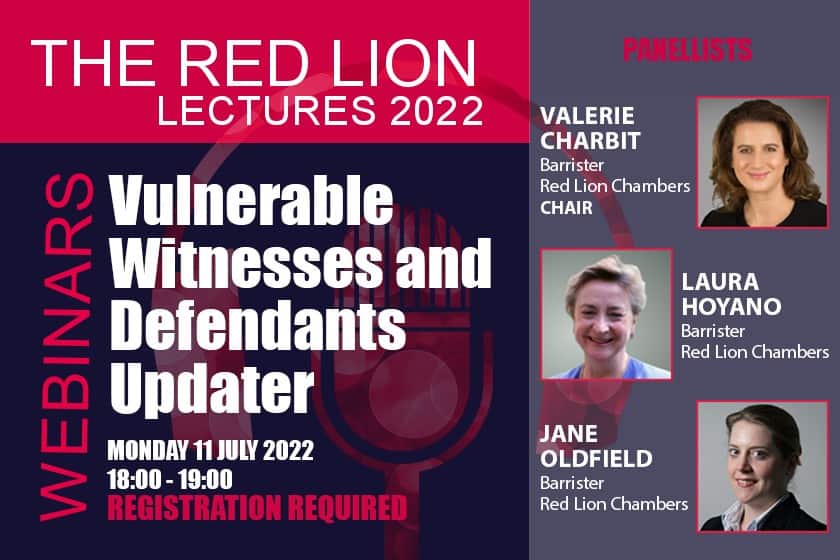 Red Lion Chambers presents the first of two webinars, providing criminal practitioners with an essential guide to the recent and forthcoming changes to legislation, guidance and procedure affecting vulnerable witnesses and defendants. Keeping up-to-date with the law and practice in this constantly-evolving field can be challenging. These webinars will tell you everything you need to know. Laura Hoyano and Jane Oldfield, facilitated by Valerie Charbit, will explain and discuss the new and updated provisions in Achieving Best Evidence, remote participation of witnesses and defendants, s.28 cross-examination and ensuring equal treatment, as well as how they are being interpreted by the courts and practical tips for those prosecuting and defending on how best to use them.
Part 1:
ABE Guidance 2022: what is in it, what is missing and what are the consequences of breaching it? An authoritative summary of the updated guidance and how practitioners can use it to their advantage, with reference to recent case law;
The new Police, Crime and Sentencing Act 2022: the repealed and new provisions for remote participation in trials and what they are likely to mean for vulnerable defendants;
Amended procedure for s.28 pre-recorded cross-examination: what we need to know and how it affects practitioners; and
Forthcoming changes to practice and procedure: what to look out for.
Solicitors and barristers will find this webinar helpful in advising clients and witnesses from an early stage and in making tactical decisions pre-trial.

Part 2 will follow on Monday 5 September, 6pm. More details to follow.
PANELLISTS
Valerie Charbit [CHAIR]
Valerie Charbit has been practising in a broad field of criminal and regulatory law throughout her career. She has prosecuted and defended in criminal cases for over 25 years and defended in professional disciplinary cases for the last 15 years. She has a specialism in mental health having sat part-time as a First Tier Tribunal Judge in Mental Health since 2004. She was the lead trainer for the South Eastern Circuit in the roll-out of the Vulnerable Witness Advocacy Training programme. She is a Grade 4 prosecutor and appointed to the RASSO panel. She has responded on behalf of the Criminal Bar Association to government consultations on sentencing offenders with mental disorders, developmental disorders and neurological impairments and on the law on unfitness to plead.
Read more about Valerie Charbit
Laura Hoyano
Laura Hoyano is a tenant of RLC and Emeritus Professor of Law at Oxford University. She has an international reputation in special measures for vulnerable witnesses, sexual offences and all forms of child abuse (her work here being profiled in Counsel in 2020). Laura represented the Criminal Bar Association on the Rape Review, where she was instrumental in obtaining publication of the long overdue Achieving Best Evidence 2022. Laura has contributed to every edition of ABE since 1999, has written chapter D14 on Special Measures Directions and Anonymity Orders in Blackstone's Criminal Practice since 2012, and is a contributor to Rook & Ward on Sexual Offences. She conducted the largest ever empirical study of the operation of YJCEA 1999 section 41, commissioned by the CBA (Views from the Barristers' Row (2018).
Beginning in 1998, she has provided vulnerable witness/SMD training across all Circuits and in the Inns, and to the judiciary and magistrates, and at CBA Spring, Winter and RASSO Conferences. Laura recently published a critique of the virtual justice provisions in the Police, Crime, Sentencing and Courts Act 2022 and their impact on vulnerable defendants ("Postage Stamp Justice?" [2021] Crim LR 1029-1050). The new edition of Hoyano & Keenan's Child Abuse Law and Policy across Boundaries (awarded the 2008 Inner Temple Book Prize) which addresses child witnesses in depth will be published by OUP in 2023. Laura serves on the CBA's Executive Committee, RASSO Working Group, Law Reform Group, and Education & Training Committee.
Jane Oldfield
Jane Oldfield was called to the Bar in 2004, and has developed a very successful practice in criminal and professional disciplinary work. She is currently ranked as a leading junior for her expertise in Crime and Professional Discipline. She is a Grade 4 CPS prosecutor and is on the CPS Rape Panel, but also has a strong and varied defence practice. Jane has significant experience of vulnerable witnesses and defendants in the criminal and professional disciplinary spheres, and edited the chapter on Vulnerable Witnesses in the most recent edition of Rook and Ward on Sexual Offences. She has also assisted the South-Eastern Circuit with education, monitoring and development relating to s.28 video-recorded cross-examination.