Red Lion Consulting - 'Waging war against impunity': the challenges of war crimes prosecutions
Tuesday 24 May 2022, 17.30-18.30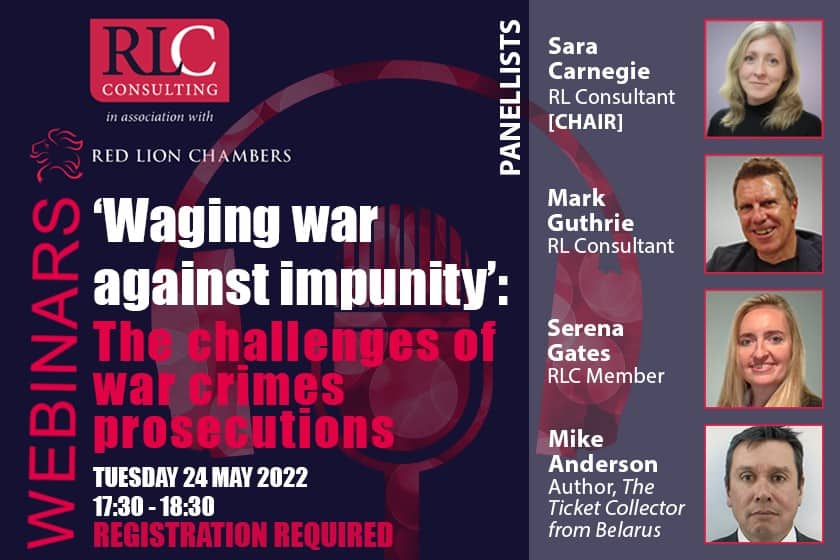 'Waging war against impunity': the challenges of war crimes prosecutions
Tuesday 24 May, 17:30-18:30 UK Time
A webinar presented by RLConsulting members Sara Carnegie [CHAIR], Mark Guthrie and RLC member Serena Gates, as well as panellists and Mike Anderson (Author, The Ticket Collect from Belarus).
Those who wage war must be held accountable for their actions. Against the backdrop of the war in Ukraine, this webinar will examine past domestic and international experiences of prosecuting war crimes, the practical issues involved and the obstacles to be overcome in the battle against impunity.
This webinar will look at the following:
Practical issues in investigating and documenting war crimes
The Ticket Collector of Belarus by Mike Anderson, (the book about the trial in 1999 of Anthony Sawoniuk, the only war crimes trial to take place in the UK)
The Ukraine experience and challenges in investigating and prosecuting war crimes
The experience in Bosnia Herzegovina in prosecuting war crimes and lessons learned
The prosecution decision making process
PANELLISTS
Sara Carnegie [CHAIR]
Sara Carnegie is an employed barrister with over 20 years' experience working within the criminal justice system. She has spent the majority of her career working within the public sector in collaboration with government ministers, officials, the senior judiciary and law enforcement on a range of justice issues. She has led legal teams for two high profile public inquiries (the Baha Mousa Inquiry and Detainee Inquiry) and her immediate past role was Director of Strategic Policy for the Crown Prosecution Service in England and Wales.
Sara currently leads a team of lawyers running projects at an international NGO. Working with members and external stakeholders including the United Nations (notably the UNODC), the Organisation for Economic Co-Operation and Development (OECD), World Bank and European Union institutions, issues covered include anti-corruption, Judicial Integrity, Cybersecurity, Whistleblowing, Modern Slavery, Rule of Law, Bullying and Sexual Harassment, Gender Equality and Mental Wellbeing.
Read more about Sara Carnegie.
Mark Guthrie
Mark Guthrie has served as a Senior Human Rights Officer and Rule of Law Legal Adviser in the OSCE Mission to Bosnia Herzegovina. In these capacities he has analysed and advised on the domestic prosecution of war crimes arising out the conflict in Bosnia Herzegovina.
Serena Gates
Serena was appointed as a Treasury Counsel Monitoree in September 2021. Her criminal practice focuses on homicide, terrorism, organised crime and sexual offences.
Serena also has extensive experience investigating war crimes and human rights abuses in addition to experience training and capacity building in conflict and post conflict environments.
Serena is a member of the Justice Rapid Response roster of experts and in that capacity has advised Ugandan prosecutors on the prosecution of historic war crimes before a specialist domestic tribunal. She has deployed as an investigator in relation to allegations of genocide against the Rohingya and has also conducted investigations whilst working for the United Nations Syrian Commission of Inquiry. She has also worked in Afghanistan and Nigeria building capacity in counter terrorism prosecutions.
Serena is also a Senior Civilian Expert for the UK Stabilisation Unit and a member of the International Advisory Committee for Legal Action Worldwide (LAW).
Read more about Serena Gates.
Mike Anderson

Mike studied Modern History at Sheffield University 1982-1985. Following that he went into banking in The City but from 1988 until now has worked at Coutts in London building a successful career in managing portfolios of HNW and UHNW clients. He spent a significant part of his career focused on the legal sector although after 20 years he redirected his energies to the fund manager industry and most recently is based in the Bank's Sports, Media and Entertainment division where he spends a lot of time on business development and on building an Art proposition for the Bank.
Since 2008 Mike has researched and co-written a non-fiction book about the only successful prosecution of a WW2 Nazi at the Old Bailey in 1999. This book, published in January 22 and a best-seller revealed what happened in a small town in what was then in Poland but is now in Belarus under Nazi occupation. It revealed a personal story relating to the prosecuted individual and the only Jewish witness in the trial who had been childhood friends.