ENDLESS SENTENCES: How communities can extend women's sentences after release
THURSDAY 29 APRIL, 18.00-19.15
This is an RLC fundraiser Webinar in partnership with Clean Break Theatre Company
Clean Break changes lives and minds through theatre – on stage, in prison and in the community. Founded in 1979 by two women in prison who believed in the power of theatre to transform lives, Clean Break has an unparalleled reputation for award-winning theatre, that keeps the complex subject of women in prison on the cultural radar, helping to reveal the damage caused by the failures of the criminal justice system. Through their unique work, they raise difficult questions, inspire debate, and help to effect profound and positive change in the lives of, women with experience of the criminal justice system or who are at risk of entering it.
Hosted by Gillian Jones QC, Joint Head of Red Lion Chambers, panel members will explore the issues relating to how communities can seemingly extend women's sentences after their release, touching on the system, resettlement, societal pressures, why women are treated differently to men and the impact on children and families.
Joining the panel will be:
Harriet Wistrich, Founding Director at Centre for Women's Justice
Ambreen Razia, Actress and Playwright
Róisín McBrinn, Joint Artistic Director at Clean Break
Amanda Richardson, Clean Break Trustee
Jennifer Joseph, Member of Clean Break
The webinar will also include a special preview, now with two scenes from Clean Break's forthcoming play 'The Favour' (co-produced with the Bush Theatre) written by actress and playwright Ambreen Razia (Hounslow Diaries, Ilford Lane) and directed by Róisín McBrinn, Joint Artistic Director of Clean Break. The play focuses on Aleena and her struggles to find a place for herself on the other side of prison. It explores the pressure her community places on her and impact of imprisonment of women and their children and families.
CAST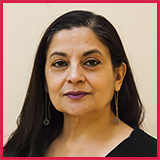 Sudha Bhuchar is an award-winning actor/playwright and founder of Bhuchar Boulevard.
Theatre acting credits include: Khandan (Royal court/Birmingham Rep), Lions and Tigers (Globe theatre) & The Village (Theatre Royal Stratford East). TV includes: Coronation street, 3 series Stella (Sky tv), Noughts and Crosses (BBC) & Four Weddings and a Funeral.

Film credits: Disney's
Mary Poppins Returns
, Ben Wheatley's
Happy New Year Colin Burstead
&
Riz Ahmed & Bassam Tariq's Mogul Mowgli
. Sudha won a Tongues on Fire Flame award (2018); was a finalist as Best Actress for BBC Radio 4's Audio drama awards (2019) for
My Son the Doctor
(co-written with Saleyha Ahsan) & won Eastern Eye's ACTA award for her contribution to the Arts (2019).
As co-founder of Tamasha, with Kristine Landon-Smith, their landmark work includes A Fine Balance (adapted from Rohinton Mistry's novel), & Strictly Dandia. Acclaimed work as a writer include: Child of the Divide (Winner Asian Media awards), My Name is…. (also adapted for Radio) and most recently Touchstone Tales (Revoluton Arts/Wellcome Collection)
Sudha is currently appearing in her one-woman monologue Evening Conversations (Jermyn Street theatre July 2021)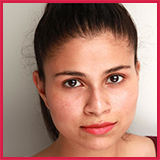 Zainab Hasan is an actor and writer.
Theatre acting credits include: The Welkin (National); [BLANK], The Shakespeare Trilogy, Henry IV (Clean Break & Donmar Warehouse), The Tempest, Henry IV (St Ann's Warehouse, NY); Tamburlaine, Tartuffe, Timon of Athens (RSC);
My White Best Friend (Bunker); Hijabi Monologues (Bush); Boy (Almeida); Tory Boyz, Romeo and Juliet, Prince of Denmark (West End). She wrote and performed a short film called Equal Measure for the Donmar Warehouse's project Writing Wrongs.

Ashna Rabheru trained at Royal Welsh College of Music and Drama.
Theatre acting credits include: Outside/Two Billion Beats (The Orange Tree); Living Newspaper 4 (Royal Court); [BLANK] (Clean Break & Donmar Warehouse); Top Girls (National Theatre);
Santi & Naz (The Vaults/The Thelmas)Trojan Horse (LUNG/Leeds Playhouse).
TV includes: All the Small Things, Pickle Jar, Sex Education, Year of the Rabbit, Bounty, Indian Summers, and Is This Thing On?
Radio includes: Electric Decade: The Good Soldier, Bottled, Deacon: Moonlight on Water, Splott, Dangerous Visions: Perimeter, and Where This Service Will Continue.

The panel and performance will be followed by an opportunity for you to ask questions.
SUPPORT CLEAN BREAK
This is an unprecedented time for us all, but for Clean Break's Members, it is particularly difficult.
Clean Break's Members are amongst those most affected by the financial, social and health impacts of COVID-19. The long-term impact of the lockdown will likely be felt deeply with many already in vulnerable positions due to circumstances such as poverty, mental ill health, unstable housing or experience of domestic abuse and they have a long history of struggling to access the support they need. Clean Break has shifted how it is engaging with Members by transferring its theatre courses online, provided much need provisions from food, house advice to computer and data resources and by increasing its mental health provision. The charity is also changing how it is talking to audiences and at this event you will get a sneak preview of a play they are hoping to produce next year.
In this current crisis the demand for Clean Break's services has increased, so please consider making a donation, however big or small, to allow Clean Break to continue to provide essential support.
PANELLISTS
Gillian Jones QC (CHAIR)
Gillian is both the first woman and the youngest person to become Head of Chambers in its 71-year history. She is an inspiring role model both as a QC and in her role leading the set.
Gillian has for many years sat on the Developmental Board at 'Clean Break' and is an active member of the legal referral panel for the Centre for Women's Justice. She was recognised in the 'Hot 100' lawyers list 2021 produced by The Lawyer Magazine; was winner of 'Crime Silk of the year' for Legal 500's UK awards 2020; was Highly Commended by the British Legal Awards 2019 for the 'Women in law award' and is cited as a Leading Silk by Chambers UK and Legal 500.
Harriet Wistrich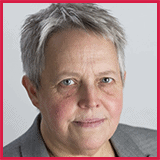 Harriet Wistrich is founder and director of the Centre for Women's Justice 2016, a multi partner organisation aimed at bringing cases holding the state to account in relation to violence against women and girls. She is also a solicitor experience working with the renowned civil liberties firm, Birnberg Peirce Ltd. She is the winner of the Liberty Human Rights Lawyer of the Year award 2014, Legal Aid Lawyer of the Year 2018 and Law Society legal personality of the year 2019. She is also a founder of the campaign group Justice for Women and trustee of the charity, the Emma Humphreys Memorial Prize.
At the Centre for Women's Justice she heads up the strategic litigation team which is taking forward a number of significant strategic litigation challenges including acting on behalf of the End Violence Against Women Coalition to challenge the DPP with regard the collapse in prosecutions for rape.
Ambreen Razia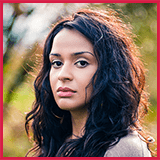 Ambreen Razia is an actor and writer from South London. Her critically acclaimed play The Diary of a Hounslow Girl toured nationally around the UK and has been adapted as a BBC three Pilot.
Her play POT was published by Oberon books and completed its UK National Tour around the country, focusing heavily on girls in gangs and children growing up in the UK care system. She co-wrote and screened her short filmed Relapse, which explores the UK's prison system.
Ambreen has performed and worked in women's prisons across the UK. Ambreen has recently been commissioned by Clean Break Theatre company. Recent acting credits include - Hounslow Diaries (BBC), Black Mirror (Netflix), This Way Up (Channel 4) and Trigonometry (BBC 2). Awards include Best Newcomer (Asian Media Awards) and Eastern Eye Emerging artist award, 2017. Ambreen was nominated for the Outstanding Achievement Award at the Women of the World in 2017 and won best emerging writer at last year's Edinburgh Television Awards.
Róisín McBrinn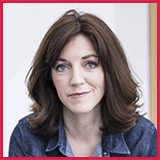 Róisín McBrinn is a theatre director. She became Joint Artistic Director of Clean Break in 2018. Prior to this she was Head of the Artistic Programme since 2014 with responsibility for commissioning and developing writers and artists. She has directed many productions including shows at The Abbey Theatre, The Gate Theatre (Dublin), West Yorkshire Playhouse, The Donmar Warehouse, Sheffield Theatres, The Bush Theatre and Sherman Theatre.
For Clean Break, she has directed Joanne by Deborah Bruce, Theresa Ikoko, Laura Lomas, Chinonyerem Odimba and Ursula Rani Sarma; House by Somalia Seaton; Amongst the Reeds by Chinonyerem Odimba; and Thick as Thieves by Katherine Chandler.
Amanda Richardson
Amanda Richardson has been a Clean Break Member since 2012 and became a Trustee in 2019. Amanda worked in the care sector before more recent customer service roles at The Koestler Trust and Southbank Centre, and volunteer work with projects at Talawa Theatre Company, The Place and Citizens Advice Bureau. As an actor, she has trained at Royal Central School of Speech and Drama.

Jennifer Joseph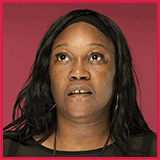 Jennifer has been a Clean Break Member since 2010 and has gone on to a professional career as a performer on stage and screen. She has appeared in all three of Phyllida Lloyd's acclaimed all-women Shakespeare Trilogy at the Donmar Warehouse, and most recently starred in Clean Break's co-production with The Royal Court Inside Bitch. Her film credits include Honeytrap directed by Rebecca Johnson and Starred Up for Sigma Films. Recent TV credits include My Mad Fat Diary for Channel 4. As an advocate for Arts in Prisons, she takes part in outreach programmes about penal issues and is an Ambassador for Women In Prison.